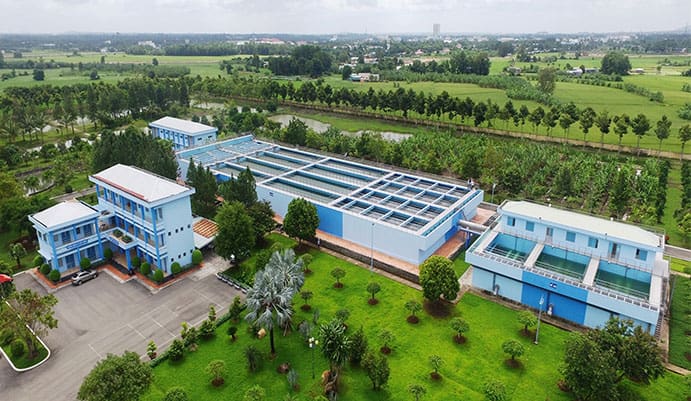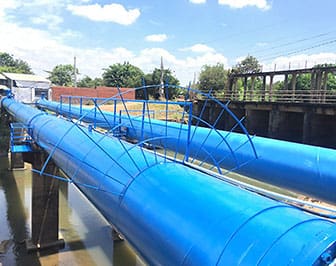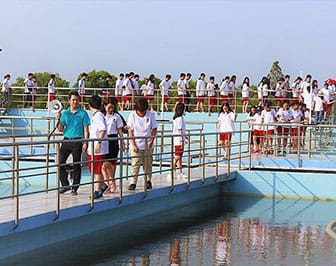 DA DEN WATER FACTORY
Green – clean – beautiful factory, belonging to Ba Ria-Vung Tau Water Supply Joint Stock Company (BWACO).
With building acreage of ​​8 ha, it is the largest surface water factory built in Phuoc Hung Ward, Ba Ria city.
After nearly a year of commencement, the crude iron water pipe made of ductile iron, D1200mm diameter, 12.3 km long and clean water pipes from D600mm to D1000mm were immediately put into use.
After two years of construction, all categories have been completed with a total investment of about 300 billion VND in domestic loans.
After completion in 2006, the factory has fully reached its capacity of phase 1 of 75,000m3 / day.
Raw water source of the factory is taken from Da Da Lake with stable raw water quality, low turbidity.
The main categories of the existing treatment area include the intake compartment, two hydraulic reaction tanks, four horizontal sedimentation tanks, and six quick filtration tanks.
The aisle on the tank and the walls in the tank are tiled with tiles, being cleaned daily so they are very clean.
Currently, Ho Da Den water factory has been invested to raise its capacity to meet the increasing demand for clean water of people and industry serving, ensuring continuous water supply 24/24.
This is also the place where the Company organizes extra-curricular tours and learning sessions for the pupils of secondary schools in the province to contribute to the awareness of protecting water resources and environment for the young future generation.